In addition to our core grooming services, Foofie Poochie offers several other grooming services that can be purchased a-la-paw. To learn more about our services, reach out to us in Clifton or Hoboken, New Jersey.


Blueberry Bubble Bath Spaw Package
Your fur baby will love this all-natural, hypoallergenic, and aroma-therapeutic blueberry spaw package. We will bathe your pet with blueberry shampoo and follow it with our blueberry fruit and herb based conditioner that adds luster and softness to their coat. At the end of the session, they will receive a body spritz with the blueberry finishing cologne. They will come out bright and clean, and smelling yummy! This is a must for any breed whose face is prone to stinky fur stains due to eye discharge! Our Blueberry Spaw Package is for all dogs of all ages. This package includes the following:
• Blow Drying
• Full Brushing
• Ear Cleaning
• Teeth Cleaning (Non-Scaling)
• Nail Trimming
• Hair Bows, Bandanas, or Neck Ties
• Blueberry Cologne
• Gentle Bath with Blueberry Shampoo & Conditioner (Coconut Oil, Jojoba, Aloe, Blueberry, Avocado & Vitamins A, D & E)
---
De-Shedding Process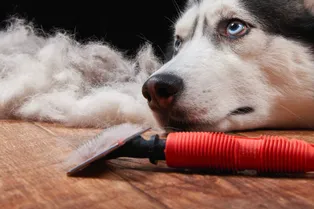 Is your dog shedding? We can help with that! Our de-shedding process includes shampoo, conditioner and a de-shedding tool that dramatically reduces shedding by 60% to 80%. It also reduces excess dander. This is ideal for households with allergy sufferers. It will improve your pet's skin health, promote healthy hair growth, and add elasticity to the hair shaft, which reduces shedding! Just add it to any of our bath packages.
---
A-La-Paw Single Service Grooming Price Chart
• Ear Cleaning - $10
• Nail Polish - $15.00
• De-Matting - $1 per minute
• De-Shedding Process - $1 per minute
• Flea & Tick Shampoo - $10
• Hypoallergenic Shampoo - $10

• Sanitary Trimming - $10
• Face Trimming with Bath - $25
• Blueberry Facial - $10
• Blueberry Bubble Bath - $15